Image copyright
Holly Honderich
The cost of further education is reshaping America. But as tuition prices soar across the country, one university in Kentucky has found a way to cover the costs. There's just one catch – the students have to work for it.
"Scholarships or student loans".
These were the available choices for 18-year-old Sophie Nwaorkoro to cover the costs of university.
A family crisis in her final year of high school derailed option one. She found herself homeless and without the financial support needed to help plug the gaps left from any scholarships.
Option two – taking out loans – would have placed Sophie among millions of her peers who enter adulthood bound to payments on their student loans. Most estimates put total student debt at $1.5tn (£1.2tn) – more than what Americans owe on credit cards. And nearly half of borrowers default on the loans.
Image copyright
Holly Honderich
Image caption

Berea College in rural Kentucky

"I wouldn't have risked it," she says. "Debt kind of spelled out the end of my freedom."
Sophie had resigned herself to not continuing her education, until she got a call from Berea College, a small undergraduate university nestled in rural Kentucky.
The representative told Sophie they would cover everything.
"When she told me that I broke down and cried," Sophie recalls. "They just opened up a door that I was really sure had been closed."

Berea College was founded in 1855 by John Fee, a Christian minister and an abolitionist. It was the first integrated, co-educational college in the American South.
Its modern campus sits on the same ridge as the school's original building – now a small constellation of brick buildings and white columns that could be crossed, unhurried, in about 15 minutes.
Since its inception, Berea was meant for students who could not afford college – costs were nominal, and students worked on campus to help support themselves.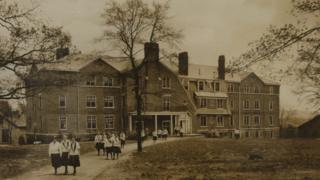 Image copyright
Berea College
Image caption

Students outside Berea's James Residence Hall, built in 1918

And, in 1892, it stopped charging tuition entirely.
"What's unusual about Berea is that for, I'll bet 70% to 80% of our students, this is their only shot at a high-quality educational experience," says Berea President Lyle Roelofs.
More than half of Berea's incoming 2018 class had an expected family contribution of $0. The mean family income of a first-year student is less than $30,000 (£23,000). Around 70% of students are from Appalachia, where around one in five people live below the poverty line.
"We have always realised there are people who need education who can't afford to pay for it," says Mr Roelofs. "The 'how' is much more complicated."
The "how" is twofold.
First, there is Berea's endowment which, as of this year, has ballooned to $1.2bn (£930,000m), a product of nearly 165 years of growth.
"If you don't have tuition revenue, then you want to have a powerful friend like the American stock market," says Mr Roelofs.
The endowment is effectively safeguarded by the school's commitment to free tuition. A renovation or campus upgrade will only be approved once every student's tuition is assured. Its growth has also been spurred by a particularly prescient vote by Berea's board in 1920, which ensured that any unrestricted bequests – donations left without a specific purpose – would be added to the endowment.
Now, about $60m is withdrawn from the endowment each year to support Berea's operating budget, including tuition.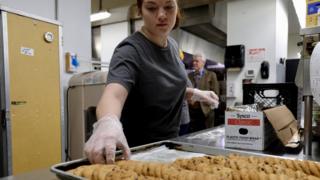 Image copyright
Holly Honderich
Image caption

Emily Fannin, 18, at work in the dining hall

The second unique feature at Berea is the labour programme, which requires each student to work on campus for at least 10 hours every week, similar to a federal work-study programme at other US universities.
"At Berea College, no student pays tuition for a high-quality education, but every student works," says Roelofs. "We don't just admit every student, we hire every student."
The jobs are essential to Berea's operation – both the students' labour and a portion of their pay cheque is used to keep the college running.
"It's not the most romantic thing," says Sophie who, in her role in the dining hall, works with "absolutely everybody's trash".
"I know some people might look down on…
---
Recommended Debt Help Books